By Stuart Holmes
Each year, millions travel across England's spectacular coastline, from Cleveleys to Cornwall, seeking escapism. We really do like to be beside the seaside. 
As such, on the Fylde Coast and beyond, tourism has become increasingly central to local communities prospering. Such seasonal resorts are typically dependent on this money but, in the era of Airbnb, many tourists have sought to profit themselves, often at the expense of locals, creating coastal waves of tension between residents.
This greatly altered, 21st Century sense of shoreline community is explored in Bait, the breakthrough feature from Cornish writer and director Mark Jenkin, which was released in August 2019. It is a greatly relatable story, focusing on the sense of 'home', which can be enjoyed at home by film lovers on various digital platforms.
Bait is set in Jenkin's homeland, with set locations moving between Charlestown and West Penwith. His next feature, Enys Men (Cornish for 'Stone Island'), is currently in production.
It tells the story of Martin Ward (Edward Rowe), a present-day local fisherman who has fallen on hard times following his parent's death. He and his brother, Steven (Giles King), have reluctantly sold the family home, Skipper's Cottage, before going their separate ways to make a living. 
Steven retains their fishing boat and now offers coastal cruises for tourists, which offers a better return than trawling. Meanwhile, Martin stubbornly continues to fish without a vessel, assisted by his nephew, Neil (Isaac Woodvine), setting up nets on the shore which provides a paltry daily catch for the pub landlady, Mrs Peters (Janet Thirlaway). Whilst the brotherly split appears relatively amicable, some inevitable tensions remain as they live distinctly separate lives.
Skipper's Cottage new owners are the Leigh family: Sandra and Tim (Mary Woodvine and Simon Shepherd), plus their teenage children, Hugo (Jowan Jacobs) and Katie (Georgia Ellery). 
Much to Martin's dismay, his childhood home has "bin modernised", as he tells his brother, with its refurbishment providing space for both the Leighs and frequent Airbnb guests who complain of the fisherman's morning noise. The cottage is now fitted with gaudy, faux nautical items, including a mirrored porthole which reflects Martin's yearning for what once was his.
Martin now lives alone, displaced to a modest house on the estate above the harbour. He retreats there each day after work, placing his lacklustre earnings inside a rusting biscuit tin which serves as a piggy bank for his boat fund. 
His former escapism in the local pub has also been tarnished by the Leigh children and their fellow out-of-town friends. They congregate each evening during the summer holidays, taking over both his place of solitude and the pool table, on which they "don't play 'winner stays on' no more". Everything has changed.
The collective tensions between the Cornish locals and the London tourists progressively rise throughout the film, building to a tragic conclusion.
The critical response to Bait was consistently positive. Film critic Mark Kermode named it his favourite film of 2019, calling it a "genuine modern masterpiece" and "one of the defining British films of the decade". 
Further accolades followed, most noticeably Jenkin being honoured with a BAFTA for Outstanding Debut by a British Writer, Director or Producer alongside co-producers Kate Byers and Linn Waite.
Bait is a film focused on parts of the country previously marginalised having to, somewhat reluctantly, face up to a changing world and the impact of gentrification. The culture and community by the coast is now one of tourism. The Leighs believe they are boosting the local Cornish economy whilst Martin sees that they reap the rewards of his former home and take their money back home to London. 
The aftermath of Brexit is a further theme of Bait, with radio discussion of the impact on fishing being heard in the background during one early scene. Martin's livelihood has been impacted by such changes, having persevered in vain whilst his brother walked away from the family trade. He has been somewhat forced into a position which was (possibly) not something he voted for. 
Furthermore, the film places immigration and alienation under the spotlight. Martin suddenly feels under threat on his home soil, becoming the embodiment of an EU citizen living in England post-Brexit. His strong Cornish dialect contrasts heavily with that of the out-of-towners who now share the village. It is he who suddenly feels isolated and unwelcome, appearing different to those around him. He subsequently becomes resentful towards the out-of-towners and, to some extent, prejudice towards them without just cause.
When exploring the film's title, the word bait holds several meanings. At face value, we see Martin without his own boat, with which he would typically fish for profit. Our protagonist also appears to have become trapped, like the few fish he does catch, in the only place he has ever called home, furthering the Brexit theme. Whilst he may contemplate leaving, he feels he has no choice but to remain.
Bait was shot on 100ft rolls of black and white Kodak film using a 16mm Bolex camera, which provided a maximum 28 seconds per take and the distinct grain and flicker of an era of cinema long forgotten by many. 
To ensure a consistent aesthetic, Jenkin shot with a single lens. A total of 130 rolls of film were hand-processed using an antique Bakelite rewind tank, built in 1976 (the year Jenkin was born), with no two films coming out the same. 
"Working with film is hands-on," said Jenkin, upon the film's release. "I feel directly connected, through my hands to all those people who have been processing movies in the same way for over a hundred years. I love the craft element of hand processing film, creating something with your hands."
Jenkin also used a second Bolex camera from the 1960s, which ran at a higher frame rate, solely for slow motion sequences. The camera had been gifted to Jenkin by retired cinematographer Peter Smithson, who had used it to film sequences for David Attenborough documentaries in the late 20th Century. 
"I think I fully understand everything it can do and how it does it," said Jenkin, speaking about Bolex. "It's incredibly robust, and beautifully engineered; it makes a lovely sound. It's very easy to load, and it takes beautiful lenses which create wonderful images. And it looks stunning. I would quite happily hang it on my wall like a painting. It's a work of art."
For Bait, the monochrome depiction of events on the Cornish coast using this comparatively unconventional approach to filmmaking embodies a nostalgia whilst simultaneously highlighting the fragility of the present day (and its potential future) for born and bred residents. 
Visually, Bait is akin to films of the 1920s rather than one released at the turn of the 2020s. Appropriately, it was shot without sound and the dialogue was post-synched, creating an eerie suspense throughout whilst also emphasising the film's themes of alienation and disconnect. Similarly, it evokes the feeling of early foreign films, dubbed for the understanding of outsiders.
When layered with a minimalist score rich with coastal, industrial sounds, the result is a dreamlike, almost Lynchian landscape, which mirrors the unsettling mood of Eraserhead (1977), the debut feature of David Lynch, Jenkin's experimental contemporary. 
Rowe's central performance perfectly encapsulates Martin's feelings of frustration and disdain towards the Leigh family. He receives much of the screen time and dominates the frame during each take. His character's persona holds a curious charm as he takes his frustrations out on others, often with assistance from barmaid Wenna (Chloe Endean), who provides dry humour with her unfiltered opinions and thoughtless actions. Both actors are standouts amongst a cast of comparatively inexperienced, yet impressive performers. 
There is nothing to say in criticism of Bait other than, like with all cinema, it may not be to everyone's liking, but this is a hallmark of good art. It will divide opinion, either being adoringly embraced or quickly dismissed. Jenkin's decisions behind the clockwork lend themselves perfectly to his storytelling but, like the events on camera, they won't be appreciated by everyone. However, this is all the more reason to investigate Bait for the first time or return to it for a more detailed viewing.
Bait is a modern tale depicted as one of yesteryear. Like Martin, it stands out from the crowd and is not as intimidating as it might seem at first. As a director, Jenkin has carved a niche for himself with his archaic methods of filmmaking to create a work of visual intrigue and thematic depth which whets the appetite for future output.
Bait is currently available 'on demand' via BFI Player, Apple TV, Amazon Prime and Curzon. 
Stuart Holmes is originally from Preston and has been a freelance writer for over a decade. His love of film knows no bounds. He has previously written for Big Issue North, The Skinny, Clash and Time Out, amongst others.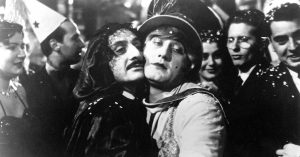 Following a season of critical acclaim which boasted a rare, unanimously voted Palme d'Or, two BAFTAs, and four Academy awards, Bong Joon Ho's Parasite (2019) had set the high-water mark for 'world cinema' in the Anglosphere. Having won the Oscar for both Best Picture and Best Director, he had surpassed mainstream giants like Scorsese and Tarantino in their own backyard.
Read More »