Garth Gratrix is an artist and curator living and working in Blackpool with his cat Jilly. He creates work that responds to existing material or spaces that he has worked in and is interested in abstract and minimal art as a way to explore identity from the perspective of LGBTQIA+. His work predominantly references and advocates for coastal culture, its playful euphemistic charms, its familiarity and opportunities to escape and looks at things from new and more relaxed perspectives.
Clancy Mason asks Garth some questions about his practice, films, influences and his hometown. 
CM: Can you tell us a little bit about your work/practice?
GG: I have an international portfolio with exhibitions in the UK, Norway, Iceland and South Korea. I established Abingdon Studios- a leading artist studio and project space provision in the heart of Blackpool, with programmes including WORK/LEISURE, an international residency scheme, SCAN (a new seaside curators and artist network) in development and The Coast is Queer, the first residency platform in Blackpool to support and develop LGBTQIA+ artists from across the UK. I have previously delivered programmes of activity that bring artists together to collaborate in empty spaces as part of my nomadic curatorial platform titled In Collaboration With (ICW).
I have supported over 200 artists over the last 5 years and most recently curated the UK Young Artist of the Year Art Prize in partnership with UK New Artists, Robert Walters Group and Saatchi Gallery.
My last solo exhibition was titled Shy Girl, installed at Grundy Art Gallery and supported by Arts Council England.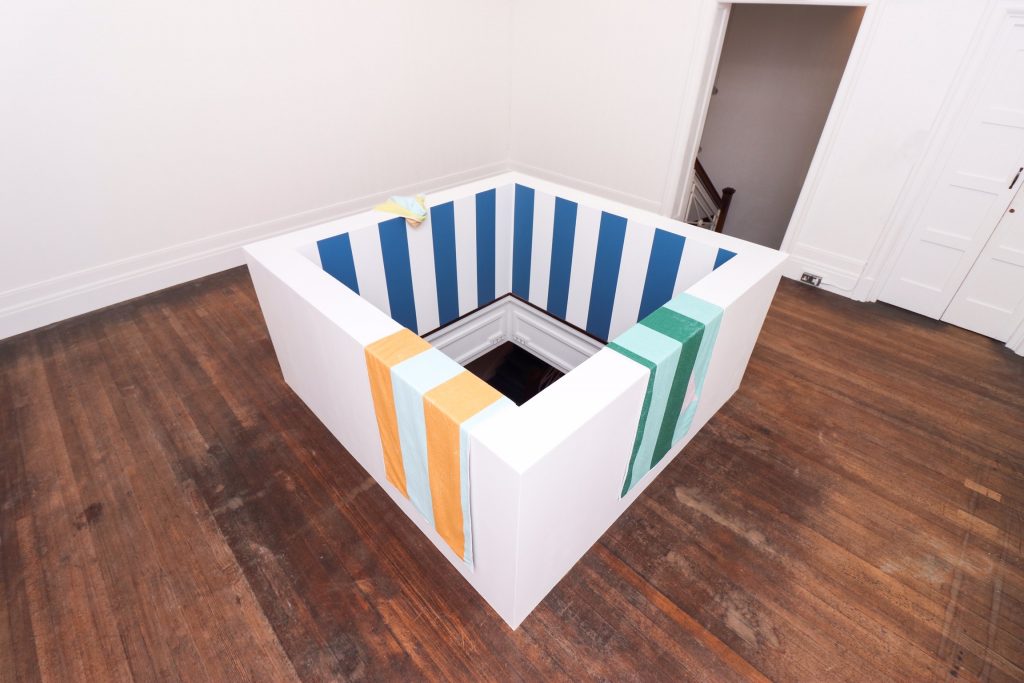 CM: What is your involvement in the WGFF 2020?
GG: I have been invited to curate a collection of footage sourced and adapted from the LUX and BFI archives; in particular, to explore how LGBTQIA+ themes or past unseen footage can be seen, perhaps for the first time, or in a new way for audiences in Blackpool.
CM: If you could share any pearls of wisdom with anyone trying to get a career in the arts off the ground, what would it be?
GG: I am learning that the best way is to crack on and get something up and running yourself. Most of the work I have achieved has come through my own initiation and determination to see an idea come to reality. However, you need other people's help, you can't do it all yourself. Ask questions, invite people into your ideas and see how they become stronger and more realistic through shared learning.
Understand where you fit, or where your idea comes from. That may be through history, through current politics out of frustrations about what you feel is missing culturally. However, understand that and communicate it clearly and concisely. This helps other people know how they actually can help and why you have approached someone in the first place.
Don't chase money. Develop and progress the thing you genuinely love and have passion for. Others will feed off that and usually want to help someone that is authentic and shows personal commitment and drive. Never expect anything, none of us are entitled to something, just because we feel we have put the most work in, or we live there. It is often a game of chance and luck, but be ready and confident in your ability for when your time comes, and it will.
Treat someone as you would want to be treated yourself. We are all always learning on the job, there is not one way to work in the arts. Be kind. Unless you are 100% financially solid on your own and can fund an lifelong career, you'll need ongoing working relationships that are positive. Nobody likes to be or feel used in the moment, work with people you actually like and stay connected with them in a way that is mutually beneficial.
CM: Are there any career highlights you are particularly proud of?
GG: Ignoring, the above humility, I've done some amazing things! In all honesty I would say curating an exhibition of young artists from across the UK, in Seoul, South Korea. It was possibly the most stressful and demanding exhibitions to date, but taught me so much about communication beyond my comfort zone, flying solo in a new place and having confidence in myself to do something well that also supports others.
Also, I was particularly proud of my latest solo show, Shy Girl. It was the first time I achieved my own funding application and it created some really exciting new ideas for me and my work moving forwards and some great new collaborations with other artists I admire. It ticked a number of items of the bucket list in one go and I have a book to mark the achievement.
CM: What is your connection to Blackpool? What are the challenges and highlights of living and working here?
GG: I was born and raised here, moved away, then came back like a moth to a flame (or Illumination). My family is of football heritage, with my Grandfather, Roy Gratrix, being considered a legend player for Blackpool FC. Blackpool also has a gay community that I see as culturally significant for the UK, and one where I feel safe and welcomed.
Challenges: Convincing the world around you that Blackpool is culturally relevant and not just a thing to reminisce over or look back at its former accomplishments. People think they know the town before they visit, this creates a difficult crowd when trying to show them something more altruistic and opportunistic as a destination that is affordable to live and work as a creative. With this in mind, it is a challenge to just be the artist you might want to be. It is still a hard career to get accepted as such, a career. It often feels like you are 20% artist and 80% convincing others that you can be an artist here. The town can take creative people for granted and can misplace its culture versus tourism priorities sometimes (in my opinion), so the trick is trying not to become free added value for others getting paid.
Highlights: Soooo many! Being part of a small arts ecology means you can be focussed and develop work that takes new risks, it isn't over-influenced by a self-congratulatory circle that you might find in established art scenes and be the best version of yourself. Being able to be in an art studio five minutes away from our famous promenade is a dream come true. Seeing more artists moving here and having spaces to be able to show and develop work is something of a highlight to be involved in and help grow. Being invited to be involved in some wonderful and ambitious projects over the years and meet so many incredible minds living by the sea is a bit of a hidden gem and I'm just pleased to be part of it all.
CM: Covid-19 has been challenging for everyone. How are you managing to remain creative during this time?
GG: When covid-19 hit the UK, literally within a week, I had lost all existing contracts for 2020 (except WGFF and The Coast is Queer residency programme in development). Thousands of pounds of income removed, without warning. It was and remains difficult. However, what it has forced upon me is much need respite. Artists rarely take time off (it's virtually impossible for self-employed creatives to do so), so I have been able to really appreciate my surroundings again and Blackpool as a place perfect for taking time away, a home from home.
I am terrible with digital interaction, I'm feeling my age as an elder of the Millennials, but finding ways for it to be useful for me. Such as reaching out to artists I've always wanted to work with and perhaps not had time to strike up a conversation yet. Staying in contact with queer artists outside of Blackpool via phone has been crucial to my work as an artist and for my sanity to exchange ideas and keep friendships going.
I am reading more, my cat Jilly is oblivious and loving that I am home to sit on 24/7. I am able to run errands for the family, who, although all in Blackpool, I have barely seen. So even in this climate, I am connected more with them.
As director of Abingdon, we are still pushing forwards planning activity and commissions for artists post Covid-19, so that we can open our doors to more people to engage with arts and culture again.
CM: Here are some quick-fire movie questions:
1) CM: What film do you wish you could see again for the first time and why?
GG: Titanic, because now I know what happens. and I now hate My Heart Will Go on #donetodeath.
2) CM: Have any films influenced your own work/practice? Which ones and how?
GG: I enjoy watching artist moving image pieces from artists such as:
Peter Fischli (b.1952) & David Weiss (1952 – 2012): The Way Things Go, (1987).
Bruce Nauman (b.1941): Clown Torture, 1987.
John Wood (b.1969) & Paul Harrison (b.1966): Twenty Six (Drawing and Falling Things) collection of short films/kinetic performances
Mike Kelley (1954-2012): Extracurricular Activity Projective Reconstruction #1 (A Domestic Scene), (2000).
Matthew Barney (b.1967) Cremaster Cycle (1994-2002)
All very different artists, but I get inspired by the varying ways in which they work with objects, spaces and use film as a medium to perhaps help us understand performance, character, and identity within our everyday surrounding, whether those realities are constructed or staged or more DIY and truthful.
As a gay man, quite a few films help me brush off shame and just learn to be comfortable with who I am:
Beautiful Thing (1996)
Pride (2014)
The Birdcage ((1996)
Weekend (2011)
Philadelphia (1993)
Paris is Burning (1990)
Mulholland Drive (2001)
Boys Don't Cry (1999)
Call Me By Your Name (2017)
MILK (2008)
3) CM: Is there a filmmaker you would like to collaborate with and what would your collaboration look like?
GG: I'd be more interested in collaborating with the artists mentioned above and how we could use film as a tool to explore ideas. If Derek Jarman was alive today, there would be a restraining order with my name on it.
Gay director, Bryan Singer (X-Men), as maybe I could get a date with Wolverine.
Gay director, Kenny Ortega (Hocus Pocus), as the maker of my favorite childhood movie a) to say thank you and b) can he take me to grab a drink with Bette Midler.
4) CM: Can you recommend any contemporary films / filmmakers, from the last 10 years, which you think are pushing boundaries and doing exciting things with film?
GG: Steve McQueen, the only filmmaker to win an Oscar and the Turner Prize.
5) CM: What three films would be on your ultimate Lockdown Movie Marathon?
GG: Considering my answers beforehand, I'm in need of a bit of Hocus Pocus, Devil Wears Prada and Mrs Doubtfire in these desperate times. Good switch off easy watch movies. It can all be research and sometimes I just need to eat popcorn.
CM: Post Covid-19, do you have any plans for the 'new normal'?
GG: Not worrying about what normal is anymore, it can all and will always change.
Stay up to date with Garth Gratrix on Twitter and Instagram
Header photo: Garth Gratrix, Shy Girl, solo exhibition, Grundy Art Gallery, 2020.