We had a great time working with Harry Clayton Wright, who joined the judging panel of the Winter Gardens Film Festival International Short Film Competition in 2019. We asked Harry to dream up some ideas about what he might like to create for the following year's festival.
Clancy Mason catches up with Harry to talk all things creative, recent events and what his new project might look like.
CM: Can you tell us a little bit about your work/practice?
HCW: I'm an entertainer, theatre maker and performance artist working across mediums (stage, screen, galleries, nightclubs). Playing with form not only keeps things interesting, but also allows me to experiment with how I can channel my craft. Where and what that manifests into is what best suits the idea. I try not to limit myself creatively which makes things both more challenging and exciting.
Having spent the majority of my twenties touring internationally as a dancer and performer in cabaret spectacles, I returned home to focus on furthering my solo practice and embark on my thirties. My debut solo theatre show, Sex Education, won a Brighton Fringe award in 2017 on its debut outing and earned a Total Theatre Award nomination at the Edinburgh Festival Fringe in 2019. Last year, I co-wrote and starred in a short film called Deep Clean – directed by GRAMMY nominated and UK Music Video Award winning David Wilson – which was selected by SXSW, The Iris Prize in Cardiff and NewFest in New York.
Another interest of mine is that I also specialise in durational performance. The Slumber Party was my 107-hour performance (that's around four and a half days) where I played a teenager who wouldn't leave her bedroom and day or night you could come and see me inhabit this character who lived in a glass fronted box. This premiered at Glastonbury and has since been performed in Australia at the Adelaide Fringe. Then last year I also debuted The Fortnight in Brighton and Blackpool, which was a two-week durational performance piece where every day for 14 days I premiered a brand new eight-hour performance piece. So, as you can tell, it's been a varied career but one I've enjoyed immensely.
CM: What is your involvement in the Winter Gardens Film Festival 2020?
HCW: The WGFF is such an exciting and important event for Blackpool. After loving my experience with the festival last year – being part of the jury, seeing so many great films and attending fantastic events – I jumped at the chance to be involved again.
In regards to my involvement this year, we're taking inspiration from both an iconic movie superstar and local queer history crafting a performance party that recreates Divine's appearance at the Flamingo in 1986 with an event that features newly created and bespoke visuals, in collaboration with film students at Blackpool and the Fylde College, paying homage to John Waters with the party featuring a live tribute honouring the legend herself, Divine.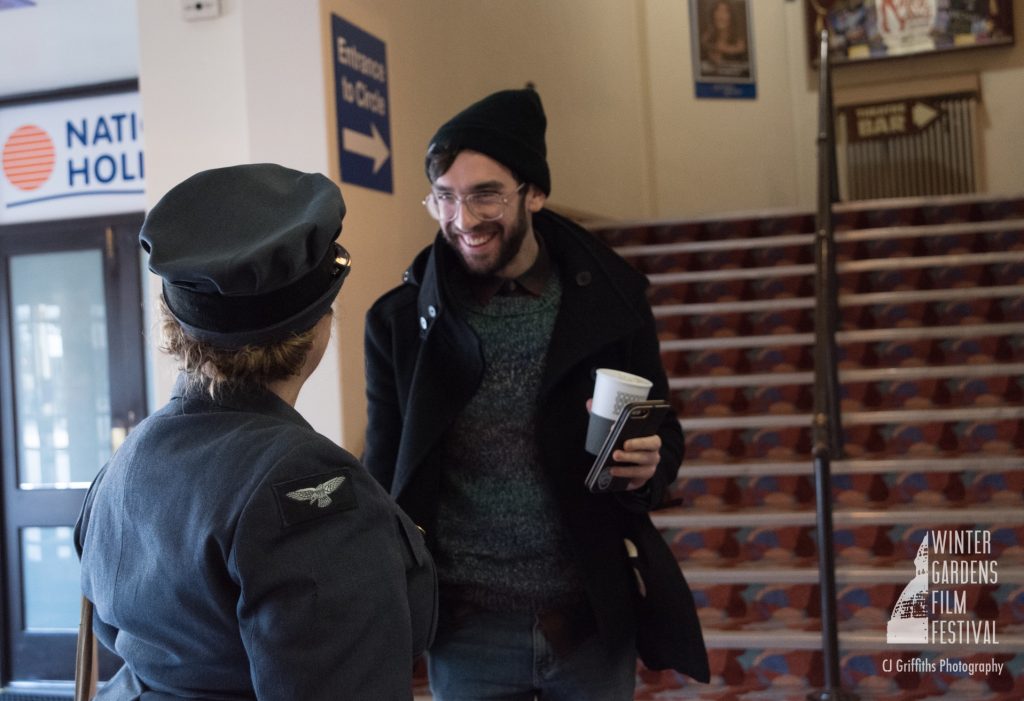 CM: If you could share any pearls of wisdom with anyone trying to get a career in the arts off the ground, what would it be?
HCW: Invest in and craft good documentation of your work. Learn how to sell your ideas and form a strong pitch. Find a USP, get a gimmick, hone your style. Create your own opportunities and take the lead.
If you wait for the gatekeepers to let you in, or the permission to make work, you might be waiting a while. Know the marketplace, stay ahead of the curve, be iconic.
CM: Are there any career highlights you are particularly proud of?
HCW: Touring the world many times over and being able to explore new places and make meaningful friendships along the way is something I'm very thankful for. To have had the opportunity to perform on some incredibly hallowed stages is something I cherish. Sex Education being so well received at the Edinburgh Fringe was so meaningful and having that connection with audiences when performing the show is always special – I was invited to take the show to Sydney Mardi Gras in February of this year which was also a dream come to true as a queer kid from Blackpool. But the process of making our short film Deep Clean and seeing an act I'd dreamed up in my house fully reimagined as a Hollywood production number and sharing that experience with not only my friend, but a director as renowned and talented as David Wilson, with such an exceptionally talented crew on board, is an experience I'll treasure forever. 
CM: What is your connection to Blackpool? What are the challenges and highlights of living and working here?
HCW: I feel so lucky to have grown up in Blackpool with access to the incredible heritage and traditions of entertainment at my fingertips and it's had a profound impact on my life and career. Only now I'm older do I realise how lucky I am that being around these historic, beautiful and wonderful institutions – the Winter Gardens, Blackpool Tower, the Grand Theatre, Blackpool Pleasure Beach to name but a few – has been part of my life for as long as I can remember.
It's amazing that these experiences are normalised to us in our childhoods at such an early age. Your imagination is always so stimulated. There's fun around every corner. As I got older and realised I wanted to become a performer, while I was aware it required dedication, achieving that goal didn't feel impossible because of the accessibility of those experiences on my doorstep. Whenever I mention I'm from Blackpool I always feel like I make sense. Plus my complete obsession with wigs, feathers, sequins, glitz and glamour can easily be traced.
In regards to the challenges of living in Blackpool, while there's a really exciting arts movement in the town with so many incredibly talented artists and creatives, how I've been earning the majority of my living over the past few years means touring and working outside of the town. Therefore, I've had to be away for long periods of time and as a homebody who loves to be around family that's always very conflicting. I've been constantly living out of suitcases and was always on trains or planes, so trying to find and make more local sustainable work can sometimes be a challenge. But that's why I'm so excited to be collaborating in partnership with the WGFF to craft new work, inspired by local history, and show it on home turf.
CM: Covid-19 has been challenging for everyone. How are you managing to remain creative during this time?
HCW: I was in the middle of touring my show when the crisis hit, so initially there was a lot of admin around postponing dates and other cancelled work/plans. Since then, I've been putting together an online magazine experience in the form of a new zine called You Otter Know which has been commissioned by Homotopia as part of their Queer Art Always series launching mid-June.
Then there's been dreaming up this new work for the WGFF which in this current climate of course offers challenges in terms of when and how. But the bonus in crafting something new is that there are no rules and now is the time to think outside the box and when it's safe and the right time to be in a room together, we'll be ready to provide the fun, joy and escapism!
CM: Here are some quick-fire movie questions:
1) What film do you wish you could see again for the first time and why?
HCW: Parasite. One of the best films I've seen in such a long time. Can't tell you how much I loved it.
2) CM: Have any films influenced your own work/practice? Which ones and how?
HCW: The films of John Waters opened my mind and inspired a love of just making the things that you want to see in the world, Showgirls (an iconic movie experience) influenced my style of dance, Ziegfeld Follies gave me a love of SPECTACLE.
3) CM: Is there a filmmaker you would like to collaborate with and what would your collaboration look like?
HCW: Chris Cunningham. I hope it'd be beautiful, funny and fucked up.
4) CM: Can you recommend any contemporary films / filmmakers, from the last 10 years, which you think are pushing boundaries and doing exciting things with film?
HCW: Parasite, The Florida Project, Climax, The Handmaiden, beautiful and exciting films, put them on your list and watch them immediately.
5) CM: What three films would be on your ultimate Lockdown Movie Marathon?
Train to Busan (if you can cope with a zombie film at this point in time, this is excellent).
Rear Window (an isolation themed classic)
Charlie's Angels: Full Throttle (a non-stop giver of joy and a personal fav)

CM: Post Covid-19, do you have any plans for the 'new normal'?
HCW: Having so many plans curtailed, I'm trying to be as open and flexible as possible to what the future holds because it looks like we're in this for a while. I'm allowing myself to rest and feel inspired, as I'm very aware that we're going to have to approach things differently from here on out and I want to be on full batteries for that.
Artists and creatives have long adapted to challenges and something that feels important to me is sharing in the joy of being together and creating spaces for experiencing art, so when the time is right and it's safe to gather again, I wanna be ready to offer that. But given that not everyone will maybe be able to be in the same room, with a lot of people having to shield and social distancing measures needing to be employed, I also want to have strategies that work in tandem with what that'll have to look like.
Embedding digital strands into live work going forward and employing clever alternative methods of sharing projects, so that things can be experienced by as many people as possible even if we can't all be together.
Stay up to date with Harry Clayton-Wright on  Twitter and Instagram
📸 Header Photo Credit: Rosie Powell